Academic dishonesty is one of the most burning problems in the world of academia, and while many educators want to believe that students are completely honest in their learning, Google alone shows over 261M results on "how to cheat on a test". Why?
Among other things, conventional education is still struggling to provide an engaging and personalized learning experience. Therefore, students, aren't getting fully involved in what and how they learn. Also, a chronic lack of time, competitive social and academic environment, and the need to repay student loans create this urgency of getting the best grades and graduating at any cost. It results in students turning to plagiarism to help them succeed.
On average, 39% of students admit to cheating on tests, and one in seven students pays essay mills to get their work written for them.
Education has clearly shifted, and it's amazing that one single piece of software like Kannu can serve as an inclusive medium of everything educational institution comprises.
Academic misconduct has evolved since the times of hand-written assignments, and so have the tools used to detect and prevent it in text. Most importantly, present-day plagiarism prevention tools are built not to punish negligent learners, but instead to help them detect bottlenecks and challenges in their learning process and still be able to get a high-quality education. After all, it's the success of the students that defines the effectiveness of the entire educational system.
Why Kannu has a plagiarism prevention solution on board
In the pursuit of building a seamless and meaningful experience for every user, we also wanted Kannu to address all the burning aspects of the educational process–full-scale plagiarism management was one of them.
Our partner, Unicheck (a solution for plagiarism detection and authorship verification), became a perfect match. It offers both a flawless native experience with its fully automated processes and a comprehensive proof for a fair assessment and quality education with the Artificial Intelligence, Machine Learning, and Natural Language Processing technologies it utilizes.
What's good about Unicheck plagiarism detection in Kannu:
Saves time – text scanning processes are fully automated, and results are available in a couple of minutes after the work is uploaded
Gives an ample base for fair assessment – each text is compared to the newest web pages and results across the Internet, as well as scientific databases and the institution's library of academic papers (or other learners' submissions)
Provides self-learning opportunities – students can viwe Unicheck reports as soon as they're generated to see which parts require original thought and revision
Facilitates learning process personalization – broad originality analysis of student assignments gives educators ground for adjusting curriculums so that a diverse population of students is equally able to demonstrate their knowledge
How to use Unicheck in Kannu:
An intuitive similarity report is generated automatically in a couple of minutes after the submission and is available next to every submitted paper in Kannu
A text modification assistant, Modifind, detects and reports manipulations made in text straight in the similarity report
An authorship verification assistant, Emma, that validates the unique writing style of the student based on the previously examined works – available for beta testing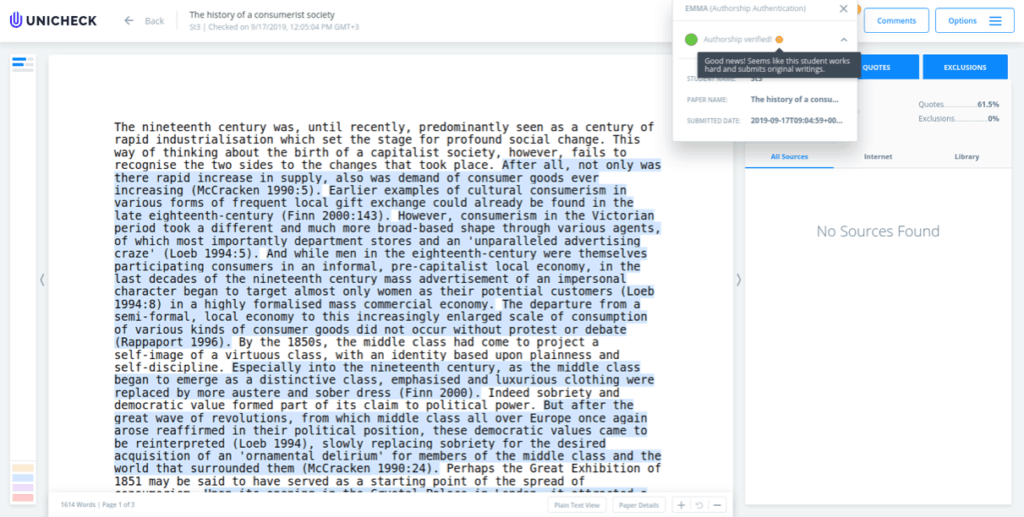 If you are interested in learning how Unicheck can help you achieve your academic goals, reach out to kannu@kadenze.com or contact sales@unicheck.com, and let them know you're interested in Kannu+Unicheck.